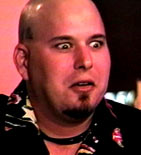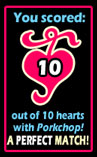 REGISTER HERE TO
WIN A FREE DATE WITH...
PORKCHOP
from The Show!
NO JOKE, IT'S REAL!
Please e-mail your name, photo, and a little bit about yourself by clicking here.
A Little About Porkchop:
Height: Unknown
Body type: Very fit, athletic.
Heritage: German? Italian? He could be anything. Look at him, for Christs' sake!
Looking for: Long or short term, fun flings, deep and dangerous, you name it.
Will accept: Straight women, gay women, straight men?
Occupation: Clam-duster
Better Qualities: Sensual, down-to-earth, adventurous, attractive (just look at that hairy ass,) experimental, nimble and provocative.
Hobbies: Soaking in whipped cream, beating self on head for pleasure, streaking, and clam-dusting.

CONTEST RULES:
You must be over 18 and live within 100 miles of Santa Rosa, California to win.
Prize includes a luxurious dinner with Porkchop himself, followed by Porkchops' choice of entertainment. By registering, the registrant gives The Show/What Inc. full rights to post photos and accounts of the date and following entertainment on this Internet site for all the world to see. THERE WILL BE MORE THAN ONE WINNER! The Show/What Inc. is not responsible or liable for any damages that may occur while dating Porkchop/Ken. This is your opportunity to date a real live superstar! ACT NOW! Entries must consist of your name, a little about yourself, why you'd like to date Porkchop, the city you live in, and an attached photo of yourself. Entries without photos will be disregarded unless you sound really cool and have a reasonable excuse. Deal? Deal! Contest runs until someone actually takes this seriously and registers. I'm not kidding, this is a real live contest. Don't miss your opportunity to meet and possibly have sex with this strange, strange little Pork-pie. He's a real person and just as deserving of love as you or I. Make the poor man happy! (Dumb people need not apply. Porkchop is an intellectual, as if you couldn't tell by
the oh-so-revealing photos.) REGISTER NOW!